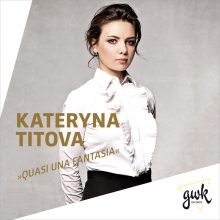 "Fantasy – it is only given to human beings: the ability to create images in the mind which do not exist in reality.
Without imagination there would be neither creativity nor progress, no art and no love! " Kateryna Titova –
her new recording with the title "… quasi una fantasia" including Beethoven's "Moonlight" Sonata and other works by Mendelssohn, Skrjabin and Vorísek will be released in April 2017 at the label GWK.