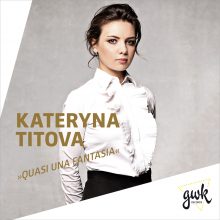 "Fan­ta­sy — it is only giv­en to human beings: the abil­i­ty to cre­ate images in the mind which do not exist in reality.
With­out imag­i­na­tion there would be nei­ther cre­ativ­i­ty nor progress, no art and no love! " Katery­na Titova -
her new record­ing with the title "… qua­si una fan­ta­sia" includ­ing Beethoven's "Moon­light" Sonata and oth­er works by Mendelssohn, Skr­jabin and Vorísek will be released in April 2017 at the label GWK.